Volunteers like Susie make the Umstead Marathon the best party of the year
The
12th Umstead Marathon
is only a week away!
Which means it is time for our annual Mascotology post.
Since Mascotology is the only reason anyone ever reads this blog, I plan to milk it for all it's worth.
I am stretching it out into an
epic
five-part series:
1. Today -
Intro
2. Sunday -
Past mascot analysis
3. Tuesday -
Handicapping the peoples' picks
4. Wednesday-
R.U.M.P.S.
5. Thursday-
The 2015 mascot revealed!
(That's right, a day early!)
Beginners Guide
For those unfamiliar with the race, every year there is a different animal "mascot".
The mascot adorns the website, the shirts, and the finishers pint glasses for that year's race.
Also, the top 15 male and female finishers receive a handmade wooden plaque in the shape of that animal. The mascot is chosen by a bizarre and shadowy ritual known as the Umstead Conclave. (
See here for details).
The choice is kept in absolute secrecy until Friday, the day before race. But we here at Running-Down are Umstead Mascotology experts and read the tell-tale signs to accurately predict what the mascot will be.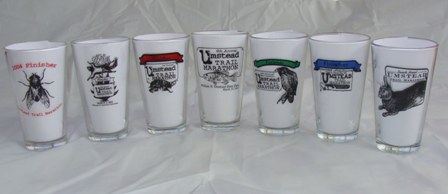 From the Umstead Website
Pint glasses displaying the mascot for each year
Review
If you have not been following along (where have you been?) here is brief synopsis of past Mascotology:
Year
Mascot Should have been
Prediction
Actual
Prognosticator
2010
Deer
Opossum (see post)
Hare
?
2011
Possum
Deer (see post)
Tick
Josh
2012

Possum

Bat (see post)
Bat
Running-Down!
2013

Possum

Possum (see post)
Duck
?
2014

Possum

Possum

(see post)
Horned Devil Possum
The Possum Revolution!
To submit your own picks for this years' mascot, please visit the
Running Down Facebook Page
or for you non-facebookers, leave a comment below.
NEXT: The Great Mascot Race